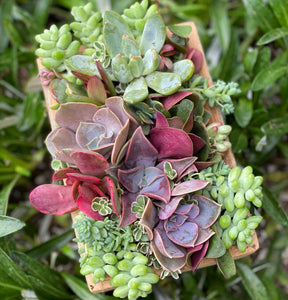 DIY Planter Box Kit
Regular price $49.99 $35.00 Sale
DIY Planter Box Kits
Make your own succulent planter to keep or gift, or send a kit as a gift! 
DIY Succulent Planter kits will come with:
-Handmade Cedar Planter
-Cactus Soil
-Variety of living succulent cuttings (colors/styles vary)
-Crafting & Care Instructions
Wood Planter measures (4in tall, 6.25in long, 4.5in wide) *brown shade of planter may vary depending on wood*
Holiday Shipping Schedule 2022:
For this specific item, please order by the following date for delivery by:
Christmas (12/25): Order by 12/19
**We will mail these out with 2day & 3day shipping to arrive before the holiday. After the packages leave our shipping facility, delays may happen, which we are not responsible for. Thank you so much for understanding!!*
Gift Notes: 
We can add complimentary gift notes if sending as a gift! Leave a note in the checkout section or send us an email so we can add a gift note! insucculentlove@gmail.com
Whether a gift to yourself or a friend, this is the perfect gift for all! 
Shipping
-This kit will be wrapped in protective tissue paper, with the succulents packaged carefully next to the planter box.
-All of our orders are shipped using USPS or FedEx shipping. Once we package the order, you will receive an email confirmation with the tracking.