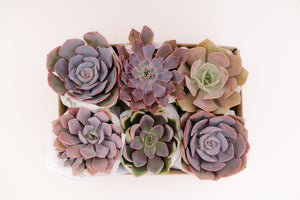 Medium Succulent GiftBox: Pink & Purple Tones
Regular price $55.99 $29.99 Sale
Medium Succulent GiftBox: Pink & Purple Tones
This special giftbox is a mix of succulents in the color pallet of pink & purple hues. Each box comes with 6 (4in) living succulents, perfect for every crafter, gardener, or plant lover! Each box comes with an assortment of succulents! *Succulents will vary and due to availability, there may be doubles of the varieties in the box.
The succulents are shipped in their pots with soil, carefully wrapped for save travels! The succulents are packaged in a box, then wrapped in a botanical polymailer. If ordered with additional items, the plants will be wrapped without a box, and placed in a larger box with all the items.
Holiday Shipping Schedule 2023:
For this specific item, please order by the following date for delivery by:
Christmas (05/14): Order by 5/7
**We will mail these out with 2day & 3day shipping to arrive before the holiday. After the packages leave our shipping facility, delays may happen, which we are not responsible for. Thank you so much for understanding!!*
Gift Notes: 
We can add complimentary gift notes if sending as a gift! Leave a note in the checkout section or send us an email so we can add a gift note! insucculentlove@gmail.com
Whether a gift to yourself or a friend, this is the perfect gift for all!