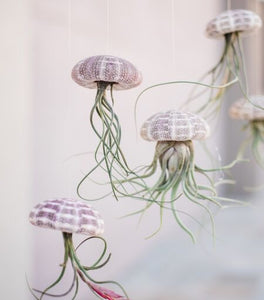 Airplant Jellyfish DIY Kit (Makes 3)
Regular price $46.99 $34.99 Sale
Airplant Jellyfish DIY Kit
**July 2022 Update- This item will be available again in August. We are currently making updates! Please leave your email in the restock section to be notified when it is back in stock (:
This botanical DIY kit comes with everything to make (3) airplant jellyfish ornaments. 

Airplants are unique plants that don't require any soil, they simply live in the air. Native to the tropics and rainforests, airplants thrive with gentle misting 1-2x per week. 


Kit Includes: 
- 3 large sea urchins (3-5in across) (natural sea urchins from Philippines)
- 3 airplants (4-6in long)
- Fishing line
- Crafting & Care instructions
 Gift Notes: 
We can add complimentary gift notes if sending as a gift! Leave a note in the checkout section or send us an email so we can add a gift note! insucculentlove@gmail.com
Whether a gift to yourself or a friend, this is the perfect gift for all!