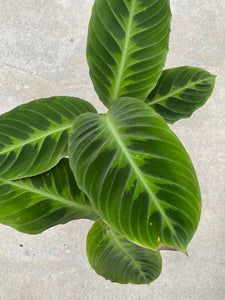 Calathea Warscewiczii ( Jungle Velvet )
Regular price $24.99 $19.99 Sale
Calathea Warscewiczii ( Jungle Velvet )
Calathea Warscewiczii ( Jungle Velvet )is a tropical houseplant. This specific variety is known for the unique patterns & velvety textures on their leaves. To care for these plants, keep their soil moist by gently watering a couple times a week. These plants need to be kept in a bright-light location inside, out of direct sunlight. 
*Limited Plant* - Limited plants are special-buys that we do not carry and stock on a regular basis. This means that we only buy a handful of these special plants, and when they are out, they are out! So act fast, supplies are limited!
Gift Notes: 
We can add complimentary gift notes if sending as a gift! Leave a note in the checkout section or send us an email so we can add a gift note! insucculentlove@gmail.com
Whether a gift to yourself or a friend, this is the perfect gift for all!
Shipping
-This plant is shipped a couple of different methods, depending on where it is traveling to. If ordered by itself, it will be shipped in its pot with soil. Depending on the other items in the order, it may ship semi-bare root to keep the delicate hearts safer. **If ordered outside the  Continental US (lower 48 states), it will be shipped bare roots.
-All of our orders are shipped using USPS or FedEx shipping. Once we package the order, you will receive an email confirmation with the tracking.