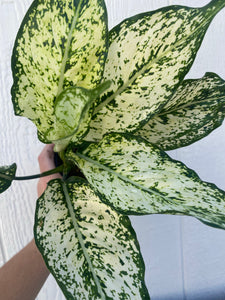 'First Diamond / Spring Snow' Chinese Evergreen Aglaonema
Regular price $14.99 $9.99 Sale
Chinese Evergreen Aglaonema 'First Diamond / Spring Snow'
Chinese Evergreen Aglaonema 'First Diamond / Spring Snow' is a tropical houseplant. This specific variety is known for the unique patterns on their leaves. To care for these plants, keep their soil moist by gently watering a couple times a week. These plants need to be kept in a bright-light location inside, out of direct sunlight. 
- Aglaonema is a family of houseplants that is very easy to keep alive and very forgiving! Perfect for new houseplant parents!
*Limited Plant* - Limited plants are special-buys that we do not carry and stock on a regular basis. This means that we only buy a handful of these special plants, and when they are out, they are out! So act fast, supplies are limited!
Gift Notes: 
We can add complimentary gift notes if sending as a gift! Leave a note in the checkout section or send us an email so we can add a gift note! insucculentlove@gmail.com
Whether a gift to yourself or a friend, this is the perfect gift for all!
Shipping
-This plant is shipped semi soil. The plant will wrapped in protective tissue paper to keep it safe on its travels. *Plant will ship bare roots if traveling to HI, AK, PR. 
-All of our orders are shipped using USPS or FedEx shipping. Once we package the order, you will receive an email confirmation with the tracking.