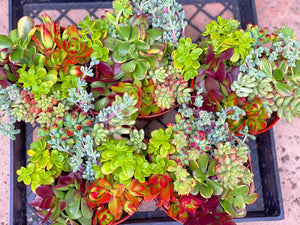 Colorful Succulent Pots (6in)
Regular price $19.99 $12.00 Sale
Colorful Succulent Pot 
**July 2022 Update- This item will be available again in August. We are currently making updates! Please leave your email in the restock section to be notified when it is back in stock (:
-Each order comes with a variety of colorful succulents. These are perfect for crafting, DIY's, projects, etc! 
-All is these succulents were full sun grown in San Diego, and will thrive well in super sunny locations!
-Each order is a (6in) pot filled with colorful succulents 
-Shipped bare roots, meaning no soil or pot.
**Due to the overwhelming response to these, some succulents may arrive with little to no roots, as we are trying to plant these as fast as possible!! If your colorful succulents do not have roots, simply plant the succulents in soil to get them to root!**