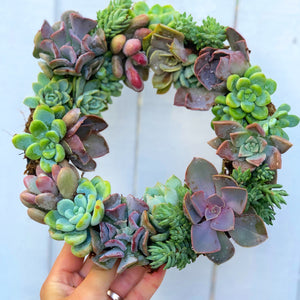 DIY 8in Succulent Wreath Kit
Regular price $39.99 $32.99 Sale
DIY Succulent Wreath Kit 
Each kit will come with all the supplies needed to create your own living succulent wreath! 
-1 (8in) Metal Wreath Form 
-20 Living Succulent Cuttings 
-Sphagnum Moss
-Floral Wire
-Crafting & Care Instructions 
In this project, the succulents are attached to the wreath by wiring them with floral wire into the sphagnum moss. With this method, your succulent wreath can be hung the same day- no need to wait for the succulents to set in, as they are wired & attached! 
These succulent wreaths typically last 6-8 months before they over-grow the wreath form. When this happens, simply snip the grown succulents off, and either re-attach them to the wreath or plant them & they will keep growing! Simple misting 1-2x per week is all the care needed for the wreaths! (Care Cards are included!)
Total craft time is about 30-45mins deepening on how long you spend to arrange, etc! 
Gift Notes: 
We can add complimentary gift notes if sending as a gift! Leave a note in the checkout section or send us an email so we can add a gift note! insucculentlove@gmail.com
Whether a gift to yourself or a friend, this is the perfect gift for all! 
Link to DIY Instructions: 
Shipping
-This kit will be wrapped in protective tissue paper, with the succulents packaged carefully next to the other supplies.
-All of our orders are shipped using USPS or FedEx shipping. Once we package the order, you will receive an email confirmation with the tracking.