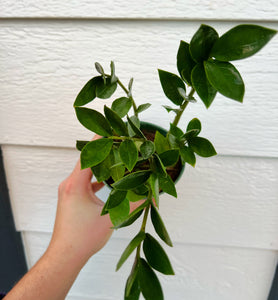 Dwarf Zamicro ZZ Plant
Regular price $24.99 $17.99 Sale
Dwarf Zamicro ZZ Plant
**July 2022 Update- This item will be available again in August. We are currently making updates! Please leave your email in the restock section to be notified when it is back in stock (:
Dwarf Zamicro ZZ Plant, is a smaller version of the traditional ZZ plant. The leaves are shorter in computation and the plant doesn't grow to be as big. This is a hybrid of the ZZ plant. This plant is one of the easiest houseplants to care for, and can thrive in bright light- low light! To care for these plants, keep their soil moist by gently watering a couple times a week. 
*Limited Plant* - Limited plants are special-buys that we do not carry and stock on a regular basis. This means that we only buy a handful of these special plants, and when they are out, they are out! So act fast, supplies are limited!
Shipping
-This plant is shipped a couple of different methods, depending on where it is traveling to. Depending on the other items in the order, it may ship semi-bare root to keep the plant safer, or it may be shipped in its pot. **If ordered outside the  Continental US (lower 48 states), it will be shipped bare roots.
-All of our orders are shipped using USPS or FedEx shipping. Once we package the order, you will receive an email confirmation with the tracking.