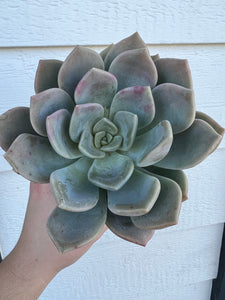 Echeveria Lilac Wonder
Regular price $12.99 $9.99 Sale
Echeveria Lilac Wonder
-This succulent is greenhouse-grown in San Diego. This means that it was grown with covered and filter light. This succulent will thrive best in a bright-lit location, out of direct harsh sun.
Shipping
-This succulent is shipped 'bare roots' and wrapped in protective tissue paper.
-'Bare roots' simply means there is none or very little soil on the roots of the succulent. This is to prevent rotting when shipping, and to prevent the succulent getting damaged in the shipping process.
-When you receive the succulent, plant the roots & succulent upon receiving and they will continue to grow!
-All of our orders are shipped using USPS or FedEx shipping. Once we package the order, you will receive an email confirmation with the tracking.