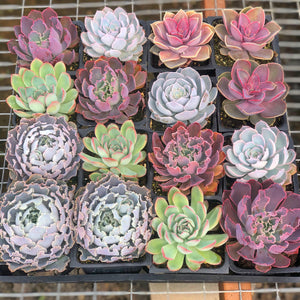 Mixed Spring Succulent Set (4in)
Regular price $127.99 $79.99 Sale
Mixed Spring Succulent Set (4in)
-Each order will come with 16 (4in) mixed succulent plants.
-Each set is hand-selected and unique!
-Succulents type varies, as this is a randomized mixed set. 
*Succulents will be similar to above, but not exactly the same*
Shipping
-These succulents are shipped bare roots and wrapped in protective tissue paper.
-Bare roots simply means there is none or very little soil on the roots of the succulent. This is to prevent rotting when shipping, and to prevent the succulent getting damaged in the shipping process. 
-When you receive the succulents, plant the roots & succulents upon receiving and they will continue to grow!