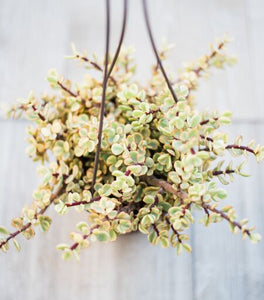 Portulacaria Afra F. Variegata (Variegated Elephant Bush) (6in Hanging Pot)
Regular price $19.99 $19.99 Sale
Variegated Elephant Bush coveys yellow, pink, and white hues throughout the tri-colored leaves.
This succulent is a perfect 'filling' succulent in arrangements, adding texture, color, and visual components. 
This succulent is greenhouse grown, so they thrive in bright light locations with in-direct light. Variegated Elephant Bush does best when gently watered twice a week! 
-This is a 6in hanging pot, meaning the pot itself measures 6in across the top of the pot. 
These can easily be transitioned into full-sun succulents by covering them with a light tarp for one week while in full-sun.
Shipping
-This succulent is shipped in the hanging pot, with soil. The hanger is taken off to ship easier. Just snap on the hanger when receiving the plant. 
-These pots are first wrapped in protective tissue paper, next bubble wrap, and then with packing paper around the empty edges to ensure safe traveling.