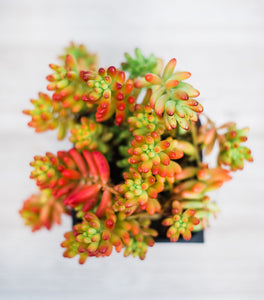 Sedum Brown Beans (15 Cuttings)
Regular price $14.99 $12.99 Sale
Sedum Brown Beans (15 Cuttings)
Sedum Brown Beans are bright and vibrant succulents, ranging in colors of red, yellow, and orange. This succulent is grown direct in the sun in San Diego, and thrives best with direct sun to keep it's colors. These are perfect for arrangements, and are easy to care for! 
-Each order comes with 15 cuttings of Sedum Brown Beans. Simply plant the cuttings in soil, and watch these cuties grow! 
-Each cutting ranged from 2-4in tall.
-All succulents are hand picked & grown in San Diego, CA. 
*Sedum Pink Jelly Beans are available in large bulk quantity orders. Please contact us for inquiries.
Shipping
-Sedum Brown Beans are sold as cuttings, in sets of 15. The cuttings ship wrapped in tissue paper and protective bubble wrap to ensure a safe journey. 
-We ship using USPS & FedEx shipping.
-If you are pre-ordering this succulent for a special event with a date in mind, please contact us as soon as you know which succulents you would like and the date of the event. This ensures that we can have them ready for your event!